Greater Dufferin Home Builders' Association
GDHBA has been the voice of the residential construction industry in this region since 1988. We provide this voice through a network of home builder associations coordinated nationally and provincially.
We are a  network of professionals who effectively manage industry issues across Dufferin County.
GDHBA is part of the 7,700 member companies within the Canadian Home Builders' Association.
GDHBA is part of the 4,000 members companies within the Ontario Home Builders' Association.
We are committed to residential construction excellence, providing affordable quality housing in the Greater Dufferin Area and addressing issues such as:
Building Permits and Regulations
Bylaw Changes
Development Application Procedures
Infrastructure
Municipal Liaison
We are an association run by a elected volunteer board of directors.  We meet monthly from September through May plus our annual Golf Tournament in June.
Mailing Address:
P.O. Box 369
Orangeville, Ontario
L9W 2Z7
Ontario Home Builders' Association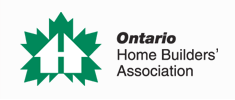 The Ontario Home Builders' Association (OHBA) was formed in 1962 with 10 local associations to give residential builders a voice in the provincial government, facilitate changes in the industry, and provide networking opportunities for home-building businesses, suppliers and services.  Today they are comprised of an Executive Committee, Board of Directors, and nine different dynamic committees and councils.  There are 31 locals associations and 4000 member companies across the province.
GDHBA members are kept up-to-date on all provincial activities and developments.  In addition, provincial conferences and awards programs provide opportunities for members to meet and network with peers from across the province and to promote their businesses.  Education and training programs for Association members are organized at the provincial level.
20 Upjohn Road, Suite 101
North York, Ontario, M3B 2V9
Tel: 416-443-1545
Toll Free: 1-800-387-0109
Fax: 416-443-1545
www.ohba.ca   |  e-mail: [email protected]
Canadian Home Builders' Association
The Canadian Home Builders' Association (CHBA) represents the members' interests at the national level. CHBA advocates the interests of the housing industry with the federal government, making sure that political decision-makers and public servants respond to our concerns and priorities.
CHBA make representations to intergovernmental bodies where federal and provincial governments meet and make decisions affecting the industry.  CHBA reports to members on important national issues through regular newsletters, special reports and a wide range of other publications. CHBA develops courses, workshops, educational publications and consumer materials for the benefit of members everywhere. CHBA acts as a forum for information sharing. Through Councils and Standing Committees, members exchange ideas and learn from each other. The annual National Conference brings members together from across the country. CHBA's website with a separate members' area keeps everyone up to date on the latest issues, developments and actions.
CHBA delivers training, advice and support for association staff and volunteers across the country to support their efforts to deliver valuable services and benefits to members.  CHBA is comprised of 10 provincial and 80 local associations across the country.
150 Laurier Avenue West, Suite 500
Ottawa, ON
K1P 5J4
Tel: 613-230-3060
Toll Free: 1-800-387-2422
Fax: 613-232-8214
www.chba.ca  | E-mail: [email protected]